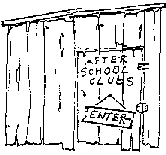 Welcome to After School Clubs, Inc. Our program was established in 1987 as a non-profit, community based, childcare program dedicated to providing professional care to children ages 5-12.


Goals of the After School Clubs Experience

The ASC Staff understand the importance and impact this program has on youth. When creating programming and leading activities, we keep the following goals in mind:


Developing greater self-confidence and a sense of independence
Encouraging respect of self, others and our environment
Developing a sense of teamwork, group decision-making and a spirit of cooperative living
Providing opportunities for encouraging personal growth through exposure to positive role models
Providing safe and healthy outdoor and indoor fun in a caring supportive environment
Staff

All After School Clubs staff must meet Wisconsin State Licensing requirements for their positions. They are involved in on-going staff development training. Staff are all trained in CPR, First Aid, and Universal Precautions.